Sand and Castles
Sand and Castles
Bull Island, Howth, Malahide, County Dublin
Whew! The skis have been packed away for another year. We certainly don't need them now as we are at sea level again. Yes, we're back in dear old Dublin!

North County Dublin is actually new territory for me, but I instantly feel at home here. We are on North Bull Island, watching flocks of various wading birds, ducks, brent geese, and of course countless gulls, feeding on the mudflats.
His Lordship and I are used to Her Ladyship complaining about the cold, but she surpasses herself today. 'The wind is freezing. Even my teeth are cold!' she whinges. I've heard of cold feet, but never of cold teeth! Fair dues to His Lordship, he beats me to it with the obvious solution to the problem: 'Shut your trap, so!'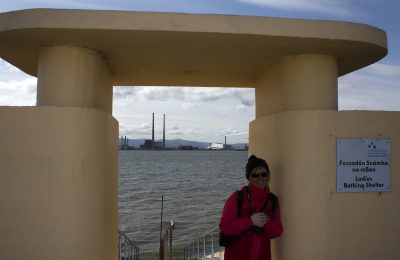 She escapes the wind for a while at the Ladies Bathing Shelter, but there's no danger of her being tempted to take a dip in the bay today. Or, knowing her as I do, any day, ever.
Dollymount Strand on North Bull Island, Herself tells us, was where many Dubliners used to learn how to drive. Long before the obligation to take official lessons, it was traditional to practice on this beach. If you ventured too close to the dunes, you got an enforced bonus lesson: how to extract your car from soft sand. A handy thing to know in Ireland, I can imagine.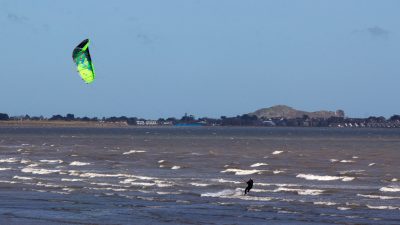 Nowadays there are other modes of transport at the beach. We are mesmerised by the skill of the kite surfers. It is incredible the speed they can achieve in these winds. Not bad, for humans.
We continue northwards and at Howth Head, park on the summit of the peninsula. Here we witness yet another local tradition: cars parked in a beauty spot positioned to best take advantage of the magnificent views, but with the drivers sitting behind the wheel, totally immersed in their newspapers. A forerunner of the Mobile Phone Zombie Syndrome, I suppose.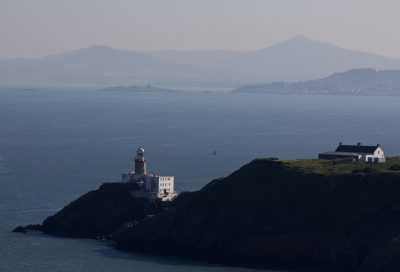 I am certainly not going to ignore this phenomenal panorama. Across the bay I can even pick out 'My Sugarloaf', the Great Sugarloaf Mountain, miles away in County Wicklow. It's hard to believe that I was sitting on its summit not that long ago, looking across the bay at Howth Head.
Howth harbour is my kind of place! It's like a St. Tropez for seagulls, in fact. Great coastline, the beautiful rocky island of Ireland's Eye just a few wing flaps beyond the end of the pier, fishing boats galore, and plenty of swish shops with only the best names. You know the ones I mean. No. Not Boss, Rolex or Burberry. Beshoffs, Wrights and Burdocks, the best fishmongers and fish and chip shops in the world! Even the newsagents carry only the best reading material. I think I now know where I am going to retire to in my old age.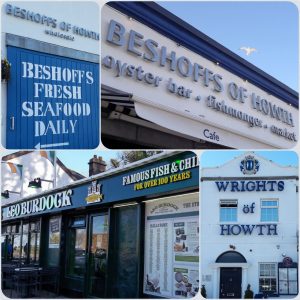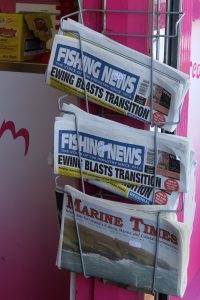 Just outside the village, we venture up the hill again to Howth Castle and the Deer Park Hotel and Golf Course. What a location for a golf course, the views are fantastic. It must make it extremely difficult to keep your head down and your eye on the ball though. A great excuse for not making the cut!
Hang on, His Lordship is continuing northwards. We've left all those lovely fish shops behind! Fish, fish, everywhere and not a bite to eat!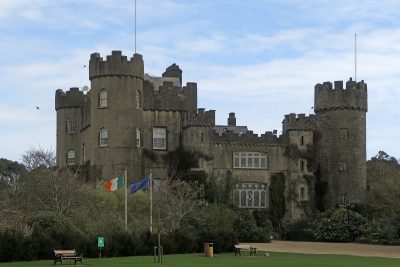 At least the weather has warmed up considerably. Even Her Ladyship is all smiles as we travel further up the coast, past Portmarnock with its beautiful Velvet Strand beach and world-famous golf course, and arrive at Malahide Castle. The second castle of the day, this one dates from the 12th century. It sure is impressive. Bet there are no fish in there though…
The Oldies decide to walk the castle grounds, then stroll down into Malahide village. Situated on an estuary, it has a very different flavour compared to Howth. Elegant apartment blocks overlook a lovely marina. Sailing is obviously very popular. Golf, cricket and lawn tennis appear to be big here too, giving the place a rather gentrified air.
The hunger is only killing me at this stage, but the Oldies are intent on following the path along the estuary out to Malahide beach. There are great views of lovely Lambay Island from here. Boy, what I'd give to get out there to do a bit of fishing!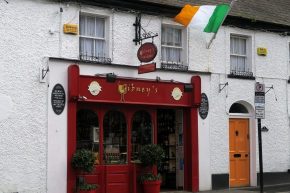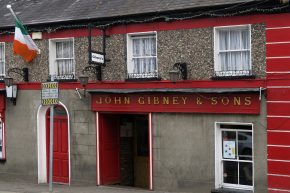 Later, back in town, Her Ladyship is enthusing about the quaint shops. But then she would, as a load of them seem to have her name on them. When it comes to dinner, there is no discussion. She insists we go to her namesake's pub. Not long afterwards, we are tucking into a couple of very generous portions of fish and chips. Finally!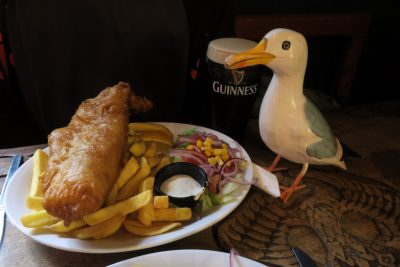 I've heard of Early Bird menus, but I think we got a Late Bird one. Better late than never, though. Delicious!