The Secret Garden
The Secret Garden
Exploring the Wicklow Mountains
I'm back in the garden again. The Garden of Ireland, that is. County Wicklow must be one of Ireland's best kept secrets. So many foreign tourists head straight for the west of Ireland soon after landing in Dublin, oblivious to the treasure trove of beauty that is right next door to the capital. Perhaps they should rename it The Secret Garden of Ireland.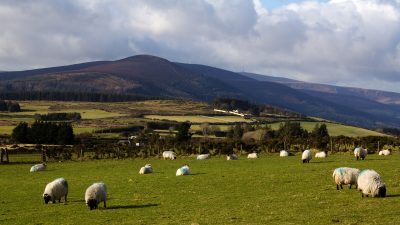 We leave suburbia behind us and in no time at all we are in the Wicklow Mountains National Park. And in another world. Soft, rolling hills, fields outlined by dry stone walls, sheep grazing peacefully amongst the furze bushes, the scrubby grassland giving way to heath and blanket bog as we drive higher into the mountainous terrain.
At times I find it incredible that there is a road here at all. I was amazed to learn that the 'Military Road' was built so long ago: in the aftermath of the 1798 rebellion, to be exact, as a means to help British soldiers track down the rebels who were hiding out in this inhospitable countryside. The Military Road meets the R759 at a place called Sally Gap which is basically a crossroads in the middle of the bog. The only signs of civilization here are, well, the signs.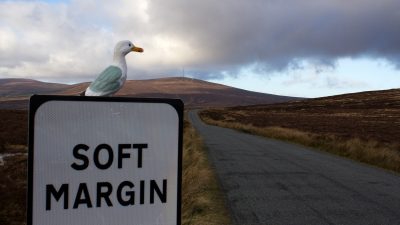 Greater Dublin area, population: 1.9 million, Sally Gap, population: 0. It's hard to believe these two places are less than 40km apart. It can't be too often that you find total wilderness just a stone's throw from a capital city.
Her Ladyship has yet another story of a foreign visitor to Ireland, this time from Japan. She was driving him from Dublin to County Wexford so she thought he might enjoy the scenic route through County Wicklow. She noticed him becoming more and more agitated the deeper into the hills they progressed, and he kept asking when they would arrive at their destination. When they got to Sally Gap, he totally freaked. Knowing Her Ladyship's driving skills as I do, I suppose it was nothing unusual for her to have a passenger freaking out in her car … Anyway, it finally dawned on her that this particular passenger, a Japanese city dweller, had probably never been in as remote a place as this. He was absolutely terrified!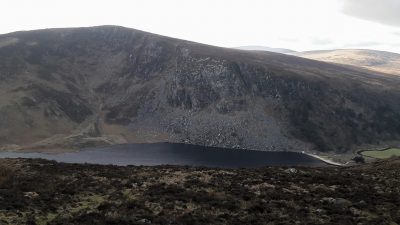 At Luggala, we stopped to gaze down into the deep valley at beautiful Lough Tay. I noticed His Lordship's eyes lighting up when he realised that Lough Tay, commonly known as the Guinness Lake (since it is on the Guinness family estate) resembles a giant glass of his favourite stout. The outline of the lake is not unlike that of a pint glass, the peaty soil makes the water look black, and the white sandy beach forms the perfect trademark Guinness head. I think I managed to sum up his feelings by screeching my own adaptation of an old sea shanty:
If Lough Tay were of Guinness and I were a duck,

I'd swim to the bottom and drink my way up!
Her Ladyship was more interested in the fact that the well-known television series, 'Vikings', is partly filmed on location here around Luggala (also known as Fancy Mountain), Lough Tay and  Lough Dan. The stunning, unspoilt scenery could certainly transport you back in time, but I reckon it is wild and rugged enough on its own without needing hordes of wild, rugged, hairy warriors dashing about in it. I suspect, though, that the hairy hordes are exactly what tickled Her Ladyship's Fancy!
We finally found a spot that is well frequented by international tourists: the famous monastic site at Glendalough, dating from the 6th century. The name is pretty self-explanatory. Once you translate it into English, that is: Valley of the Two Lakes.  The Oldies surprised me – and themselves – when they set out for a stroll by the Upper Lake and ended up, some three hours later, completing the 9km long Spinc – Glenealo Valley Trail.
The hiking trail caught them by surprise as it is not signposted from the Glenealo Valley end. But what a find! It led us past the old lead mining village dating from 19th century, alongside and across the top of a waterfall where we encountered a large herd of deer, to the Spinc on the other side. My owners were quite astounded to discover that a boardwalk, several kilometres long, has been installed across the bog at the top of the cliffs, making the terrain so much easier to negotiate and offering stunning views of the lakes and surrounding hills. The old knees were quite wobbly, however, after they'd tackled the 600 wooden steps down through the forest to Poullanass Waterfall and back to the lakeshore.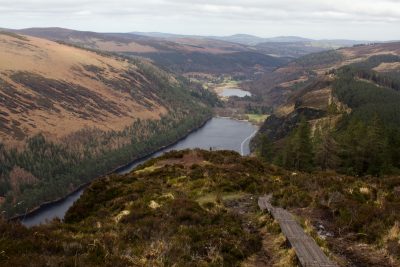 The Dynamic Duo met a pair of fellow hikers en route, who confessed that they had only recently discovered this hiking trail in spite of the fact that they had been walking in the area every weekend for several years. It seems that the Secret Garden is still full of well-kept secrets.
Shhh! Don't tell anyone!