Pilgrims' Progress
Pilgrims' Progress
I don't believe it! After our wonderful few days in gorgeous Nazaré, the Oldies are already moving on. Just when we have found the most wonderful beaches you could imagine, they have decided to turn inland. What in heaven's name are they thinking of!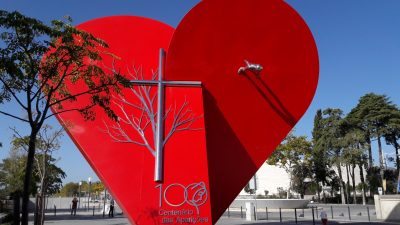 Ah! We've just arrived in Fatima, a Catholic place of pilgrimage where the Virgin Mary allegedly appeared in 1917. I bet the shrine is a pretty interesting place to visit. But no. What with all the ceremonies and rituals constantly in progress in the shrine, the Oldies have deemed it inappropriate to visit with a wooden seagull in tow. So now I'm inappropriate! Me, who has never been anything less than saintly! I tell you, I might have to let my halo slip for once. I'll have a few inappropriate remarks to make to them when they get back!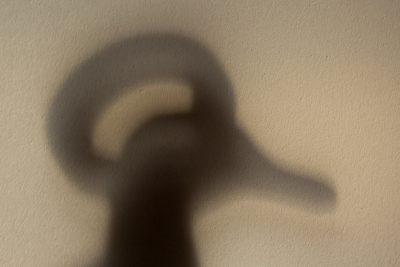 A couple of hours later, I am unceremoniously fished out of the car and brought on a tour of the town itself. The Oldies are very contrite, but they can't expect absolution from me just yet. They don't help their case much by wittering on about all the things that I had missed out on seeing: the Basilica of Our Lady of the Rosary, the squares, chapels and the umpteen other buildings in the shrine. They have come away a little bewildered by it all, but they did like the modern architecture of the Basilica of the Most Holy Trinity which seats over 8,500. They went on for an age about the numerous chapels in the floor below the main church, as well as the art gallery where they visited an apparently excellent exhibition, 'The colour of the sun: the light of Fatima in the contemporary world'.
All these human beliefs and traditions are a bit beyond me and to be honest, listening to Herself explaining to His Lordship all the ins and outs of novenas, sodalities, plenary indulgences and suchlike has my head in a spin. I've never heard of all that stuff. Himself neither, funnily enough. Although he was brought up supposedly in the same tradition as Herself, just in a different country, his experience of it appears to have been hugely different to hers.
Strange that.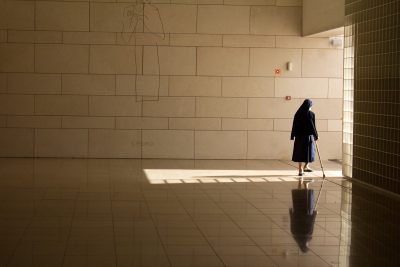 Her Ladyship really likes this photo which His Lordship took. I think it is quite nondescript.
I was afraid that the town would be absolutely packed with pilgrims, but we appear to have hit on a particularly quiet day, especially considering that Fatima receives around four million visitors annually with over eight million expected by the end of this, the centenary year. There are certainly plenty of hotels to cater for these staggering numbers.
Here's something that even Her Ladyship has never come across in a pilgrimage site before: wax body parts. She was so intrigued that she sought out a shopkeeper to ask what was behind it. The explanation was that pilgrims who have a particular health challenge can buy the relevant body part which they then throw into a fire at the basilica while praying for help with their problem. Arms, legs, ears, noses, hearts, lungs, stomachs… you name it, there's a wax version of it. I also saw wax houses, dogs, cars and motorbikes. I hope the wax works!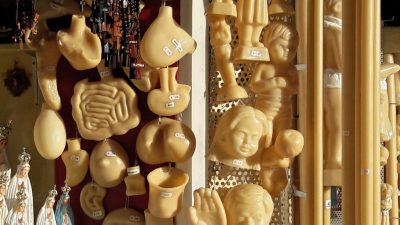 I see that another big religion in this country – soccer – is also catered for here.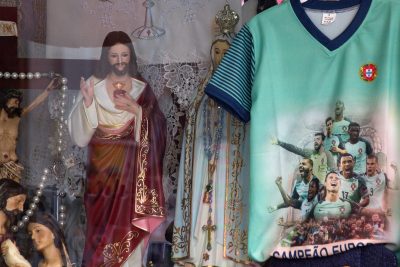 I tell you, I have never seen so many statues in all my life! There must be hundreds of shops in this town and they all appear to be selling more or less the same things: statues, rosaries, souvenir t-shirts, souvenir hats, statues, holy pictures, even more statues… On the outskirts of town we even came across an enormous Fatima souvenir superstore where pilgrims arrive by the coachload.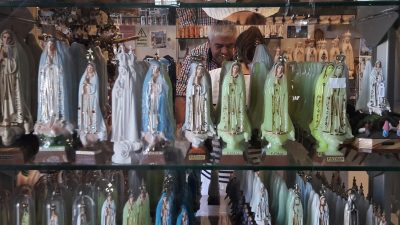 All these shop owners making a living from selling all these things. Now that's what I call a miracle!