Skiing in Style
Skiing in Style
Hinterthal Maria Alm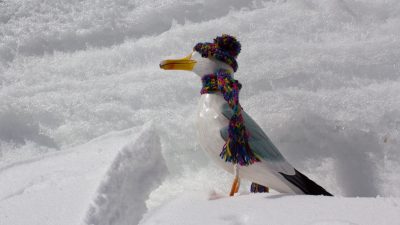 Great. I've got my owners to promise not to make any further attempts to get me back on those bloomin' skis. I can finally relax and check out the skiing scene without the fear of being launched down the piste myself.
Now for my first ride on a chairlift. Not bad at all, amazing technology. Uh oh, am I suffering from altitude sickness or what? I'm getting very hot and flushed all of a sudden… Whew! Her Ladyship reassures me that it's only the seat heating. She confesses that the first time she rode on a heated chairlift she thought she was experiencing an early onset of the menopause!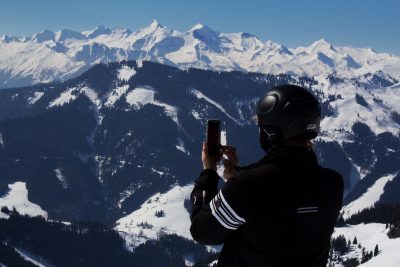 I thought the scenery around the village of Hinterthal was gorgeous, but up here it is magnificent! The panorama is breath taking. I can even make out Austria's highest mountain, the Grossglockner (3,798m), in the distance. Although he grew up in Austria, His Lordship never ceases to be impressed by this incredible scenery. For sea-level creatures like Herself and myself it has an even greater impact. Her Ladyship says that she was completely blown away the first time she saw the snow-covered Alps. It was decades ago while she was working in Germany one summer. With temperatures in the thirties, she had walked across the border to a little Austrian village to buy an ice-cream. She almost swallowed her cone whole, her mouth was that wide open with astonishment when she caught sight of the snow-capped peaks in the distance. I'm having a job keeping my own beak shut around here, I can tell you.
This is what I call civilization! The Bergstadl Skihütte (mountain chalet) on the Aberg mountain, beautifully fitted out in rustic style but with all mod cons, a restaurant serving great food, a bar with cosy seating and a roaring wood fire, a large terrace to soak up the sunshine and the views… and all at 1,900m above sea-level. You have to give it to these Austrians. They understand that participating in a sporting activity doesn't mean that you have to slum it. Quite the contrary in fact.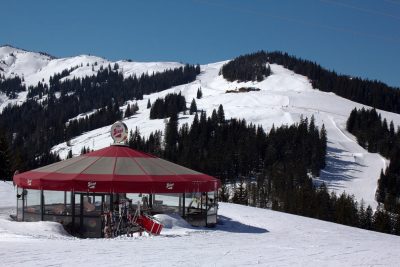 And now I see that this is just one of the dozens of similar Skihütten dotted around the mountains. It seems that you never have far to go if you want to take a break. And if you just want a drink, there are umpteen Schirmbar, or as I like to call them, Brolly Bars. The giant parasol can be folded away when the weather is sunny, opened up again to roof over the bar when it gets cooler or starts snowing. What a great idea!
Now that I don't have to participate in the actual skiing, I must say it is rather relaxing to observe. Well, except when in the case of Her Ladyship. Watching her is anything but relaxing. But otherwise it's most therapeutic, a bit like watching tropical fish in an aquarium as they weave around in schools. Or in this case, should I say ski schools?
Unlike Herself, His Lordship is getting on great with the skiing, especially since a friend of his took him under his wing. G. is an instructor of skiing instructors so he sure knows his onions. Just a few tips from him have transformed His Lordship's style. By the way, I call him G. to preserve his anonymity. He is such a great instructor you'd all want him to teach you. He's so good in fact, I think I'll call him Super-G. Hah! See, I am even learning the vernacular.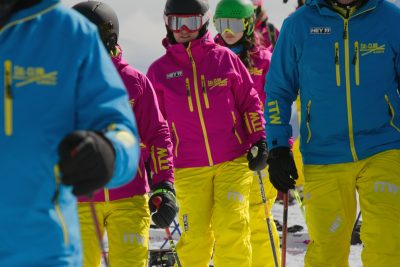 I would never have thought that being in snow-covered mountains could be such a feast of colour. The yellow bubbles on the chair lifts, the purple cable cars, the multi-coloured obstacles in the fun parks … and that skiing gear! Fluorescent colours appear to be all the rage at the moment. Those skiers in their shiny helmets and dazzling outfits dropping off the chairlifts, then weaving their way down the slope en masse. It's like a giant packet of candies spilling down the mountainside. Candies full of scary E-numbers.
As you may have noticed, I'm not usually that pushed about facts and figures, but the data on the technology here makes for some fascinating reading. Who would have believed that it costs about €3.50 to produce just one cubic metre of machine-made snow? Or that the 32 cable cars and ski lifts in the Hochkönig Ski Area have individual capacities of up to 3,000 passengers per hour? Wow!
I think I'll do a little survey of my own and start a headcount on the nearest chairlift …. 1, 2, 3, … heehee… 17, 18, 19, 20 … it's like counting sheep when you can't get to sleep … 46, 47 … yes, it's really quite relaxing … 93, 94 … oh, where was I?… 83, no, 93, 94 … zzzzzzzzzzzzzz