Aglow in the snow
Aglow in the snow
Hochkönig Ski Area
Now I know where I, Seamus the Skigull, went wrong with the skiing. I had been watching the Winter Olympics with His Lordship, and I now realise that those pros make skiing look easy. What I should have done was watch Her Ladyship on the slopes. She makes skiing look hard. In fact, the way she goes about it, she makes it look nigh on impossible. If I'd seen her in action, I'd have been a lot less gung-ho about trying it myself, I can tell you!
Ok, give her due. She hadn't skied since she banged up her knee three years ago. So when we arrived in Hinterthal, about an hour south of Salzburg, for a skiing outing, she was a bag of nerves. Would she remember how to ski at all? Would her knee be strong enough? What if she fell? And, the most important question of all, would she still fit into her ski pants? Talk about making a song and dance about getting back on the slopes! The puffing and the panting, the grunting and the groaning!
And that was just her trying to pull on her trousers.
After watching the Dynamic Duo's efforts on the slopes for a while – Olympians they will never be, I can tell you – I decided to leave them to it and do a bit of exploring on my own.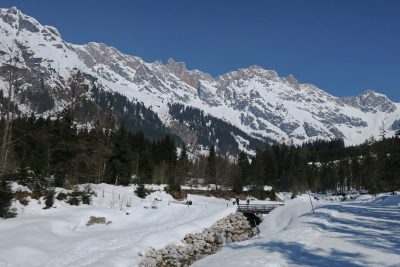 Hinterthal lives up to its name: the end of the valley. Pass through the village and you hit a wall: a wall of mountains. The Hochkönig massif is massive! To put it into perspective, Hinterthal, at an elevation of 1,000m, is as high as the highest mountains in Ireland. Yet it is dwarfed by this towering backdrop, with the highest peak, the majestic Hochkönig (High King) itself reaching almost 3,000m.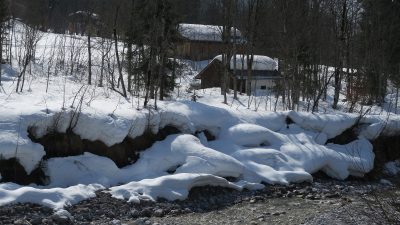 As if the altitude wasn't enough to take your breath away, the scenery around here so stunning it is almost unreal. I keep thinking I've been transported into a Christmas card!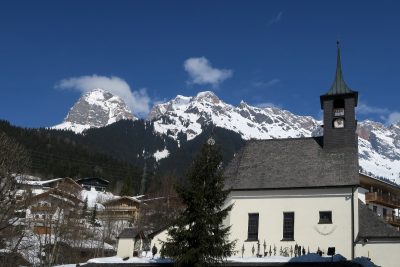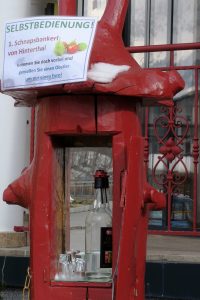 Although we are well into March there is no shortage of snow, but it is by no means a record year. A line just under the roof of the Church of the Most Holy Trinity indicates the height of the snow on 1st May 1817: six metres! I think I'd just go into hibernation if I had to live with that much snow and such long-lasting winters, but the locals take it all in their stride. They are well equipped for this climate too, and I am not just talking about snow ploughs, snow blowers and the like. Look at this: a self-service schnapps bar. And only €1 a pop. What a great way to keep warm!
That reminds me, it is time to check back on the Oldies and join them for a bit of après ski. The Wingless Wonders are certainly making the most of this idyllic ski region. The Hochkönig ski area alone, which includes the villages of Maria Alm, Hintermoos, Hinterthal, Dienten and Mühlbach offers an amazing 120km of ski slopes. But this is just one of the five ski regions that are included in their Ski Amadé ticket which gives them the freedom of a total 760km of slopes with 270 lifts. No wonder they're looking a bit knackered!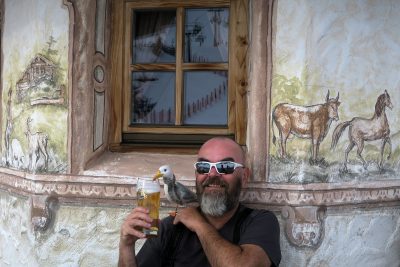 Ah yes, this is the life! A perfect end to a perfect skiing day. Especially when you leave out the skiing part.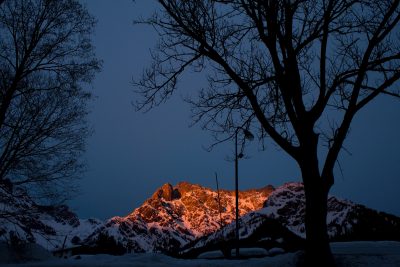 On our way home we are treated to a wondrous sight. Alpenglühen, alpenglow, a rosy hue which occasionally appears on high mountains at sunset. Perhaps the cold winter climate is not so difficult to cope with after all. The Oldies have a glow to their cheeks after their day's skiing, the schnapps is sure to give a glow to the stomach and the Alpenglühen is certainly something to bring a glow to the heart