Seamus the Skigull
Seamus the Skigull
Almenland, Styria, Austria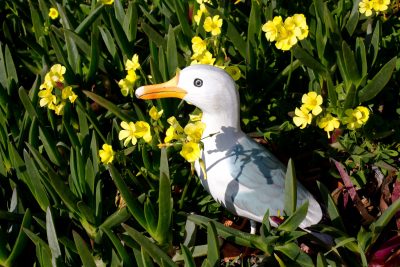 When I signed up for this travel lark, I didn't know I'd also signed up for time travel! There I was, enjoying spring in Portugal just a few days ago…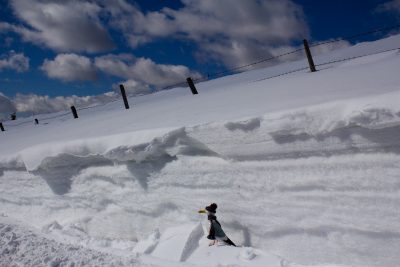 … and now I'm back in the depths of winter again. Shiver me timbers! Literally.
Wouldn't you know it? The Oldies have returned to Austria just when there's a big freeze on. And, as if we haven't enough snow here in town, they've decided to go on a drive up into the local mountains. I'm not sure if I like the sound of this at all…
Wow! This is just stunning! It's hard to believe that this is the same area we went hill-walking in the summer (Holy Cow!). The Styrian Almenland is spectacular, whatever the season. And an area to be enjoyed, whatever the season. There are ski lifts here and miles of cross-country skiing tracks of course, but I was amazed to see winter hiking routes as well. Those sporty Austrian walkers don't let a little snow stop them in their tracks. I noticed that some walkers were even equipped with snow shoes. The human equivalent of our webbed feet. I've always said you humans can learn a lot from us birds!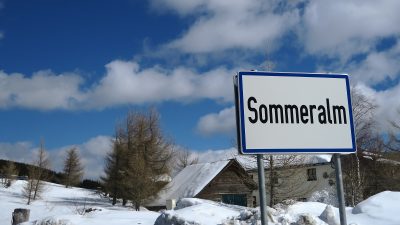 I wonder what bright spark named this area 'Sommeralm' (summer mountain pasture). See, I told you I've been travelling through time. That's my third season in as many days!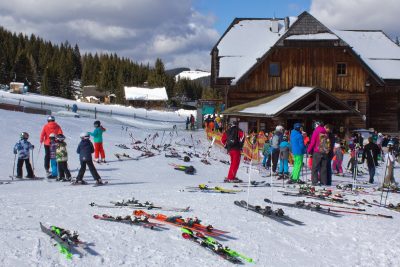 This darned white stuff is pretty chilly. But it looks kind of fun too. This appears to be a typical weekday at an Austria ski slope. There's an entire primary school on a skiing outing here at the Pirstingerkogellift. Just like the Portuguese teachers with their class outings to the beach (Beach Babies), their Austrian counterparts have these ski trips down pat. Each class is allocated its own instructors, slope times, race times, meal times, and so on. Everything is organised and timetabled to a tee, down to the prize-giving ceremony at the end. I bet those kids will sleep well tonight!
Thanks to His Lordship being glued to the recent Winter Olympics, I've been seeing quite a lot of winter sports lately, and, to me, skiing doesn't look all that hard. Sure, if the tiny tots here can manage it, so can I. You just have to attach a couple of those board thingies to your feet, grab onto a couple of poles and I suppose gravity will do the rest.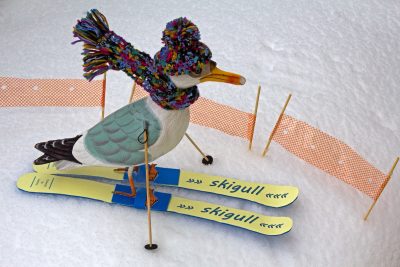 Eeeeeek!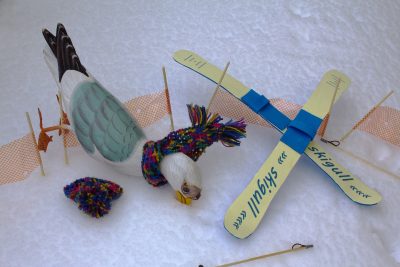 Or perhaps not. Enough of that now. No self-respecting seagull should even consider getting involved in these silly human endeavours. Most undignified!
His Lordship is doing a poor job of masking his sniggers, but at least Her Ladyship is sympathetic to my plight. I suspect she can relate to the the feeling of making an eejit of yourself on skis… Anyway, she's extracted me from the snow, brushed me off and wrapped me up warmly again. All I want to do now is go back home but she gently suggests that a bit of après ski might help restore my spirts. Well, put like that … I mean, anything sounds good when you say it in French.
The Holdahütt'n chalet at the foot of the slopes is warm and cosy and this Kaspressknödlsuppe (beef consommé with a cheese dumpling) is delicious. Just the ticket to warm your bones after a hard morning on the slopes. Yes, this is more like it. I could certainly get used to après ski.
In fact, from now on, I think I will just leave out the ski and stick with the après.