Walking with dinosaurs
Walking with dinosaurs
Dino Footprints Portugal
All that hill-walking in Ireland has stood me in good stead. Since our return to Portugal, the Oldies have been dragging me around a load of cliffs. They'd heard so much about the famous Portuguese dinosaur footprints, they finally decided to take a look at some of them for themselves.
The first location was at Cabo Espichel on the southwest corner of the Setúbal peninsula. What a stunningly beautiful spot! Well worth a visit just for the incredible scenery, dino footprints notwithstanding (or should I say, notwithwalking).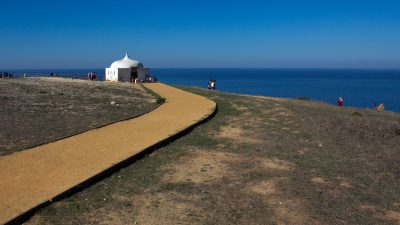 Legend has it that some fishermen had a vision of the Virgin Mary riding up the cliff on a giant mule in the 14th century. A tiny chapel stands at the top of the cliff where the vision disappeared, leaving only the mule's footprints on the cliff face. Cabo Espichel subsequently became a place of pilgrimage, and a large sanctuary, Santuario de Nossa Senhora, was built to accommodate the visiting pilgrims. Ironically, the 'mule' prints have since been identified as sauropod footprints from the late Jurassic period. Well, I suppose it's easy enough to mix up your giant mule with your sauropod…

I have to say that, even with my beady little eyes, these footprints are hard to make out as they can only be viewed properly – and safely –  from the top of the opposite headland. And if, like me, you were wondering what on earth these huge beasts were doing climbing cliffs, these steep precipices were, once upon a time, shallow (and, I presume, horizontal) lagoons.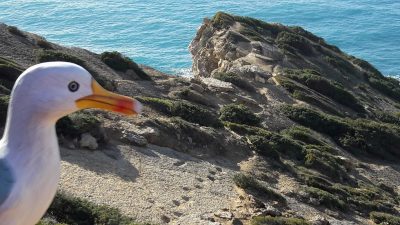 On this side, known as Lagosteiros, there are also some theropod footprints (two-legged upright dinosaurs). These are much more accessible and easier to spot, although I wouldn't recommend you humans going too close to the edge of that cliff in your efforts to view them. Those dino prints were cool, but I was extremely frustrated to see so many fossils of shellfish and other goodies in the rocks nearby. All those lovely tidbits – and  none of them edible! Sadly, they're past their 'use by' date. By a few million years.
We later saw a whole cliff-full of fossils during our wanderings around the Setúbal peninsula. The (surprise, surprise!) Fossil Cliff of Costa da Caparica, which is a staggering 13km long and 70m high. The seemingly endless beaches at the foot of these cliffs are only gorgeous. It's no wonder that they are so popular with the surfing crowd. Whatever about surfing, I wouldn't have minded doing a spot of fishing in the Lagoa de Albufeira, Albufeira Lagoon, further down the coast. A dramatic spot with a dramatic sky to match!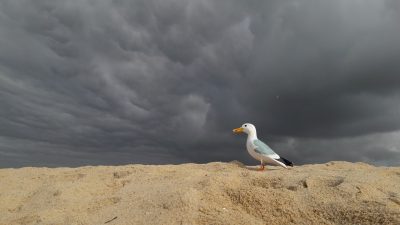 Talking about fishing, I particularly liked the fishing town of Sesimbra, located on Setúbal Bay and at the foothills of the Serra da Arrábida. The Oldies were fascinated by the Moorish Castle on a nearby hilltop and the 17th century fort on the seafront, but I was more focused on the tantalising aromas emanating from the fish market and numerous fish restaurants in the town centre. It was enough to drive a gull to distraction!
Where was I? Oh yes, back to those dinosaurs … the Oldies… I mean, the Oldies' quest took us back across the Tagus estuary to the lovely Praia Grande in the Sintra-Cascais Natural Park. This time, the dinosaur footprints were dead easy to spot, as a flight of steps has been built alongside the cliff face which is studded with over 60 clearly defined prints. You can practically walk with the dinosaurs here!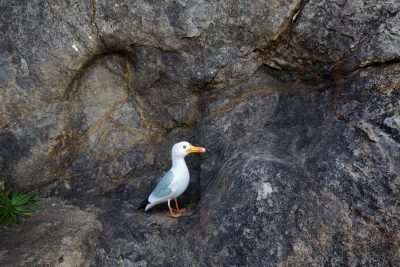 These footprints were only discovered in 1981 – by a geology student. Must have been an A student! The prints date from the Early Cretaceous period, making them about 110 million years old, and are thought to have been made by Megalosaurus and Iguanodons. Whatever they are, some of them had some seriously big claws. Gulp!
After that close encounter, I felt a lot more relaxed perched on top of the steep, jagged cliffs, looking back at Cabo da Roca, the most western point of mainland Europe, and at the huge waves crashing onto the rocks below.
I'm getting pretty good at spotting dino prints at this stage. Look – I even found some footprints all by myself the other day. A couple of excellent examples of Oldieosaurus.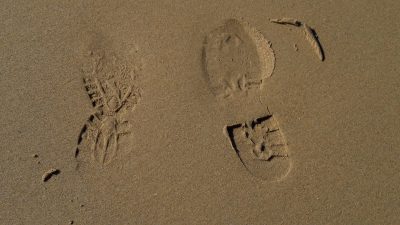 Told you I've been walking with dinosaurs!