Great little mountain
Great little mountain
Great Sugar Loaf Mountain, Wicklow
Life is full of surprises! One minute I'm minding my own business on a Portuguese beach, next minute, my bags are packed and I'm on my way to Dublin. Wonderful!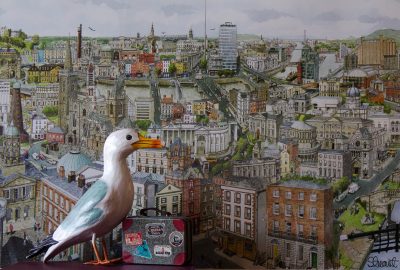 Better still, the Oldies take some time out from the city to go on a couple of outings to County Wicklow just south of County Dublin, known locally as The Garden of Ireland.
I always think of Wicklow as a miniature version of the Emerald Isle. It has practically everything that Ireland as a whole has to offer, all in one little county. In an area covering just over 2,000 km² you will find elegant country estates and ancient monastic sites, a beautiful coastline with cliffs and beaches, lush, unspoilt countryside, rivers, lakes, waterfalls, bogs, and, of course, mountains. Well, before any readers from Alpine regions give a loud guffaw of derision at the claim that we have 'mountains', seeing as the highest peak in Wicklow, Lugnaquilla, at 925m is a mere bump by Alpine standards, I suppose I'd better call them 'hills'.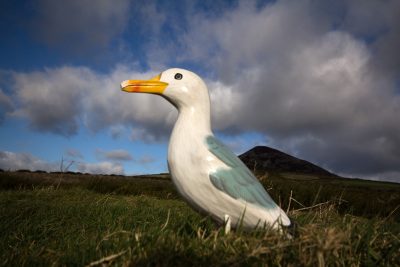 I was delighted to hear that the Oldies planned to bring me on my first ever ascent of one of my favourite hills in Wicklow, the Great Sugar Loaf. So named, not because of its great altitude, but simply because it is higher than the nearby (and perhaps more aptly named) Little Sugar Loaf. What makes the Great Sugar Loaf stand out is, well, that it stands out. Its trademark peak, which really does resemble a sugar loaf by the way, is instantly recognisable from miles away in all directions. The fact that it rises to its underwhelming altitude of 501m from not much more than sea level also makes it appear to be much higher than it actually is.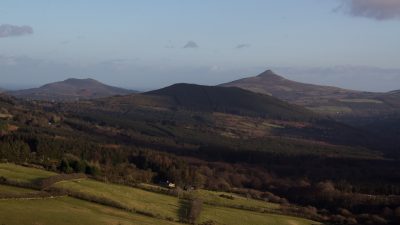 Her Ladyship tells the story of a lady who stayed with her family in Dublin for a few weeks back in the 1960's. She was Latvian, or rather, a citizen of the U.S.S.R. as it was back then, and spoke only Latvian and Russian. The only English words Her Ladyship remembers her uttering was her exclamation, 'My Sugar Loaf!' every time she spotted the peak whilst out on weekend drives with the family. The little mountain obviously made a great impression.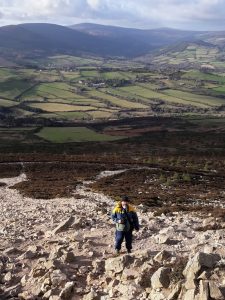 Would you believe, my owners drove half way up the mountain – sorry, hill – before starting the climb. The lazy so-and-sos! Now, I know many an Austrian (though not including His Lordship) who would think nothing of running up and down a hill like this three times before breakfast, but I must say that the steep, rocky section just before the summit is a little daunting. Don't tell the Oldies, but I was glad I was being carried up to the top. Her Ladyship's stubby little legs were at full stretch, I can tell you, and I have to admit that, at one point, I was afraid the pair of us would get blown off the hill in the high winds.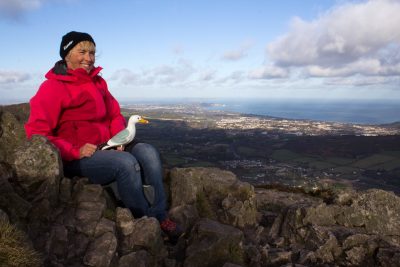 Wild, but wonderful and, boy, oh, boy, the views from the summit are magnificent! I was (almost literally) blown away by the coastal views: from Dublin Bay to Killiney Bay to Wicklow Bay; from Howth Head to Dalkey Island to Bray Head to Wicklow Head. The views inland are no less dramatic, with the panorama of soft, rolling Wicklow hills stretching out before us, the light, in typically Irish fashion, constantly changing as the clouds raced across the sky. Breathtakingly beautiful!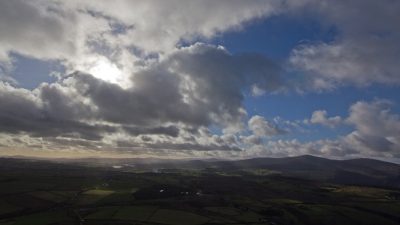 I now understand how that Latvian lady felt about the Great Sugar Loaf, this great little mountain that packs a big punch.
My Sugar Loaf!