Figueiring out the way to Coimbra
Figueiring out the way to Coimbra
Figueira da Foz and Coimbra, Portugal
Great, the Oldies have hired a car again. Wonder where we'll end up this time! Par for the course, Her Ladyship's navigating turns into nag-ivating, we end up on the wrong motorway (once again), but by pure fluke it is more or less going in the direction they had planned to go anyway – northwards. 200 km on, we arrive in Figueira da Foz, a small city on the mouth of the Mondego River.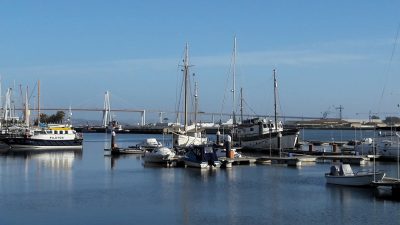 Her Ladyship witters on to anyone who cares to listen about how Figueira was a booming town in the 18th and 19th centuries, with shipbuilding and cod drying as the main industries, and how it became a great tourist resort in the 1920s and 30s. 'The Art Deco architecture is certainly testament to that', sez she. 'Who cares?' sez I. 'Turn around Missus and take a look at that beach!'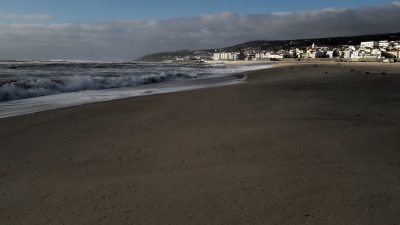 No wonder tourists came in their droves and no doubt still do. It's no surprise that the town's nickname used to be Rainha das Praias, Queen of the Beaches. This trio felt like royalty when we realised that we had this magnificent beach practically all to ourselves.
Unfortunately, the Oldies drag me away from the sea much too soon as they are anxious to explore the town further. Later, obviously exhausted from their shopping for local rice and local salt in the local market hall, they stop off for a break in a local café. Two espressos, a huge chocolate éclair and an enormous pastel de nata set them back €2.90. Amazing. I bet they'd have had to fork out at least €3 for the same in one of their locals in Lisbon!

Impatient for them to drink up and get back to the sea, I am none too pleased when I hear that they have decided to move on and, worse still, move inland, as they have the city of Coimbra in their sights. How could they turn their backs on that incredible beach?
The 40 km journey to Coimbra is fascinating however, as it takes us through wetlands where literally hundreds of storks are picking their way through the rice fields. I swear they are as common as crows here. At one point, we passed by a row of huge pylons and there must have been a minimum of a dozen storks' nests on each one. Phenomenal!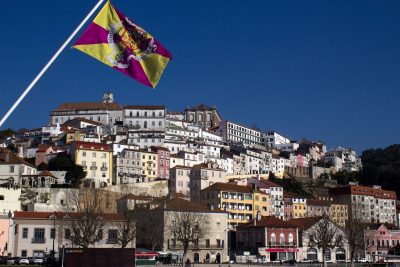 I think I can forgive Coimbra for being inland. For a start, it is situated on the lovely Mondego River. There's no shortage of gulls here, so I immediately feel quite at home. The beautiful medieval town centre is perched majestically on a hill above the waterway. Coimbra looks particularly impressive from the Santa Clara Bridge. I am not surprised to hear it was formerly the capital of Portugal.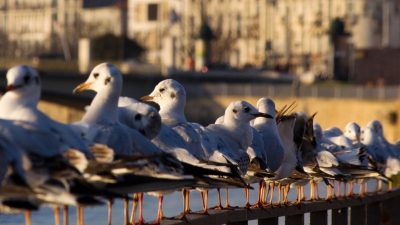 Her Ladyship and I are still recovering from having had to witness His Lordship tuck into a huge portion of stewed goat in red wine served with cabbage and potatoes for dinner last night. Eew! We cut Himself down to size today though by dragging him around the Portugal dos Pequenitos, a Portugal in Miniature theme park. Herself and myself were in our element as we checked out all the scale models of typical Portuguese houses and national monuments. We felt ten feet tall!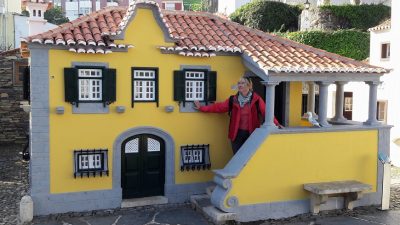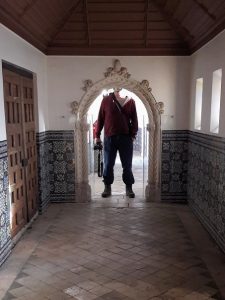 His Lordship, on the other hand, felt every inch of his 6 foot 1 frame and was soon whinging that his back was aching from trying to squeeze himself into the miniature buildings. This park was obviously designed with tiny people in mind. Like children. And tiny Oldies like Herself.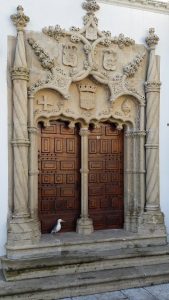 Hah! Seamus the Seagull, Lord of the Manor! I was well impressed by this incredible scale model of the old university. Wow, if it looks this good in miniature, I can't wait to see the real thing tomorrow.