Money, money, money
Money, money, money
Money Museum, Lisbon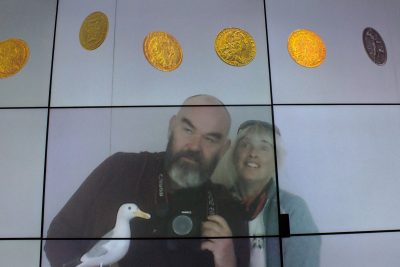 We're in the money this week!
His Lordship being an enthusiastic numismatist (ugh, sounds like a disease, doesn't it?), I knew that there would be no avoiding a visit to the Museu do Dinheiro, the Money Museum in Lisbon. I had my usual panic attack on arrival, terrified I'd be locked up in some dark cloakroom for the duration of the visit, but once all the Oldies' belongings, including me, had been passed through the security scanner, we were let loose in the vaults of the Headquarters of Banco de Portugal. You'd think it would make more sense to scan us on the way out…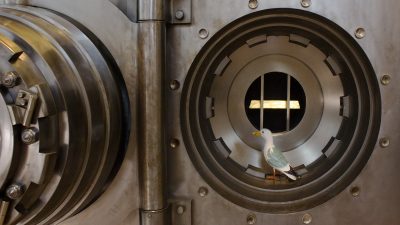 There was no chance to extract this gold bar, which weighs a whopping 12.69 kg, from the vault although we were allowed to give it a try. Himself was only able to lift it a couple of centimetres. The security man who was watching His Lordship's weight lifting efforts very closely volunteered that that compact little block of metal is worth in the region of €500,000. I'm starting to look at this shiny stuff in a whole different light!
For a money museum, they don't seem to be particularly concerned about making money themselves. Admission is free and for the Oldies' lunch in the museum café – two slices of quiche, two small beers, two espressos and one custard cake – they only wanted €7.20. When it comes to great value, we struck gold here!
My owners were enthralled by the "Making Money" section of the museum, covering the history of printing notes and minting coinage up to the present day. I certainly learned one thing: it merely takes a video of 50 euro notes being stacked by the pallet load to get a human's full attention!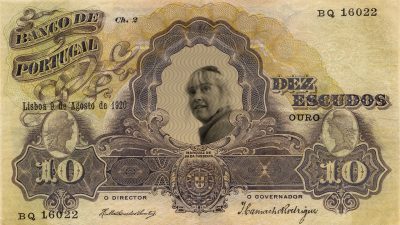 Her Ladyship was chuffed at seeing her own face on a Portuguese banknote…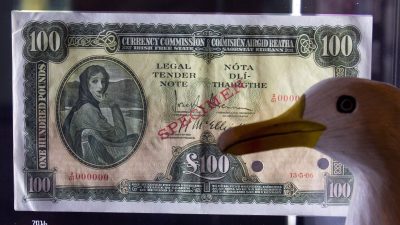 … but I preferred this lady, Lady Lavery, on this lovely old Irish £100 note. I bet my Ladyship hasn't seen one of these in a long, long time.
One of the most fascinating parts of the museum is in the basement where the only known remnant of the medieval city wall, built by King Dinis at the end of the 13th century, was uncovered during renovations in 2010. This presentation of the wall and the artefacts found there is amazing, using 3-D imagery to reconstruct an oil lamp from a single shard, for example. Talk about bringing the past back to life!
One section of this interpretive exhibit caught my eye in particular. According to the Law of Prices from 1253 set during the reign of King Dinis, one hen was listed as being worth 12 dinheiros or pennies, 1 duck = 8 pennies, 1 partridge = 5 pennies, 1 pigeon = 3 pennies. I wonder how much a seagull was worth back then? Should have been at least 4 pennies. I mean, we seagulls had to be worth more than pigeons! So, if I convert dinheiros into euros and take 765 years of inflation into account, I reckon I must be worth a good few thousand euros. Then if I compare my weight to the weight of that gold bar in the vault… ha, I always knew I was worth my weight in gold! I just wish I could convince my owners of that fact.
Hang on, here's the proof: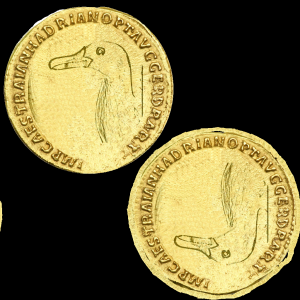 To coin a phrase, I am a solid gold seagull.
Yes, I must say I thoroughly enjoyed that outing. Apart from everything else, it did wonders for my self-worth!