Funky factory
Funky factory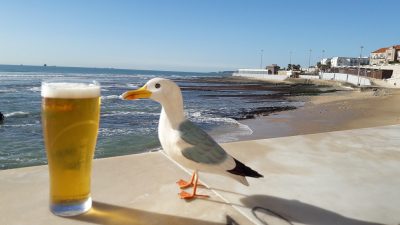 Dr Seamus does it again. I shouldn't give away any trade secrets, but my special seagull solution administered in copious amounts appears to have been just what the doctor ordered! The Oldies are back on their feet again. Well, sitting down in the Lisbon bars again, and the colour has definitely returned to their cheeks. And their noses.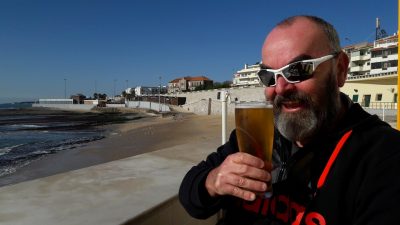 I am so happy to be out and about after been stuck indoors for so long. Our first few outings were merely gentle strolls down to the beach, but I'm not complaining! In spite of a few showers and coolish evenings, a Portuguese January is as good as an Irish June any day.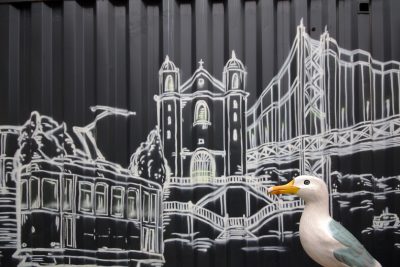 After a few days, the Oldies regain some strength and decide to venture back into Lisbon. We are practically picking up where we left off on our last walk along the Tagus (http://www.gullibletravels.net/2017/12/16/taking-time-out-by-the-tagus/).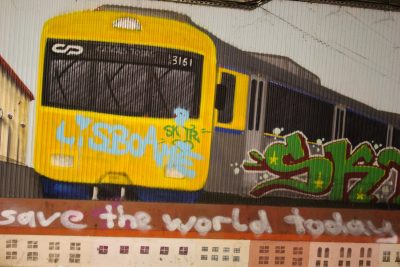 From Alcântara train station with its beautiful murals and not so beautiful graffiti, we wandered away from the river this time, calling in on the famous LX Factory, close to the 25th April Bridge. Originally a textile and fibre manufacturing plant dating from the 19th century, nowadays it is one of the trendiest places in Lisbon, housing over 200 businesses, all of them in some way creative, alternative or just plain cool. The Oldies enjoyed poking around the funky shops, galleries and art studios. All that arty, designery stuff was a bit over my head though, and I soon found my attention wandering to the actual factory building itself.
Now we gulls are known for hanging around old buildings, so I have seen many a derelict factory in my time. What struck me here is how derelict the building still is. I get it that humans consider it cool to stick modern businesses into an old space like this, but I would have thought it might have been a good idea to make the basic structure a tad more sound. You know, by repairing leaking guttering, mending broken windows, filling in holes in the walls, minor details like that. Just as there's a fine line between street art and graffiti, there's also one between shabby chic and shabby … well, just plain shabby.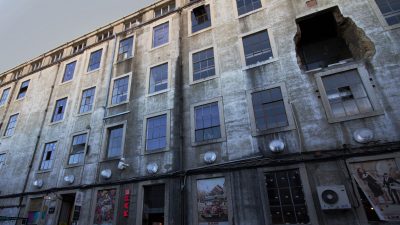 It's no skin off my beak, of course. To be honest, I probably wouldn't even have paid much attention if we hadn't been there on a quiet mid-week morning in January and there were hardly any humans to distract me. I can well imagine that the place is buzzing on warmer afternoons and evenings and that all those amazing looking bars, cafés and restaurants are heaving with people. I know the food would distract me alright! The few menus I did manage to see certainly had my beak watering. I wouldn't have known what to choose from: sushi, tapas, pizzas, Mexican … and for dessert I would have loved to try LXeeseCake, specialising in, yes, cheesecake, and Landeau Chocolate, specialising in, yes, chocolate cake, supposedly the 'best in Lisbon'. Such a pity we visited long before lunchtime.
This was sadly a case of the early bird not catching the worm!