A Big Wave from Nazaré
A Big Wave from Nazaré
Much as I am enjoying our local beaches near Lisbon, I am only too happy to set off with the Dynamic Duo on a trip out of the city. They've hired a car and thrown a bag in the boot, so things look promising!
The wild and wonderful coastline continues to delight us as we travel northwards. The brakes are frequently applied as we screech to a halt many a time along the way when we spot one gorgeous beach after the other, each more inviting than the previous one. I'm quite happy our little vehicle has decent brakes when we stop at this spot. Like my owners, it too is wingless and I wouldn't fancy taking a flying leap off these cliffs!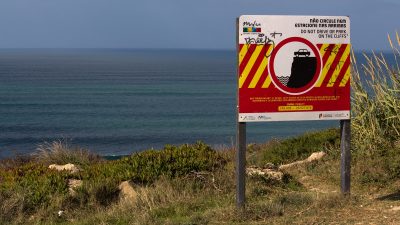 The locals, however, don't appear to be particularly concerned about the hazards of cliff-top parking.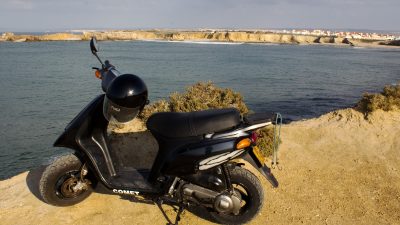 It is quite a steep descent to the beaches here, but it is definitely worth it. Even on this, the calmest of days, the surf is quite impressive, and as we move on to Ericeira we notice that we are in a World Surfing Reserve. This pointy person is a bit of a giveaway.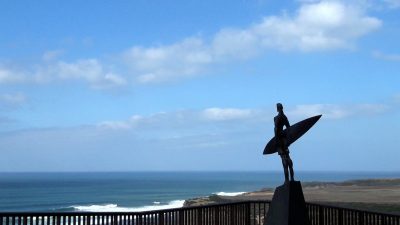 Hah! Here's a good one: What do you call a surfboard in a city car?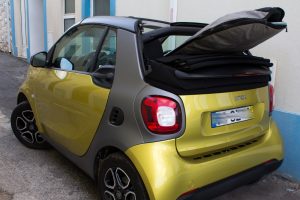 A smartboard!
I've seen plenty of good surfing beaches before, but we are into the real serious stuff here. Peniche, for example, a historic fishing town situated on a peninsula, is a surfers' paradise, with beaches famous for their fast tubular waves called supertubos. There is more to Peniche than surf, of course. I loved the harbour, and the Oldies were fascinated by the old town wall and star forts. Further out of town, from the Cabo Carvoeiro lighthouse at the most western point of the peninsula, I could only stare longingly at the beautiful Berlengas islands, about 10 km offshore, knowing that there wasn't any point in even suggesting a trip out there. Her Ladyship was already turning green at the mere thought of venturing out to sea in a ferry. Just my luck to be stuck with a thalassophobic!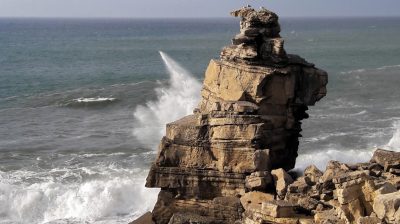 So I resigned myself to simply enjoying the spectacular views, while the Oldies admired the unusual rock formations along the coastline. Ponta do Trovão is apparently a particularly exciting example of carbonate sedimentary rocks of the Jurassic period. Exciting if you're a geologist, that is. If you're a seagull, it's a downright gorgeous cliff. Just watch out for the dinosaurs. Or at least their footprints. I hear there are plenty of dino prints to be found in Portugal!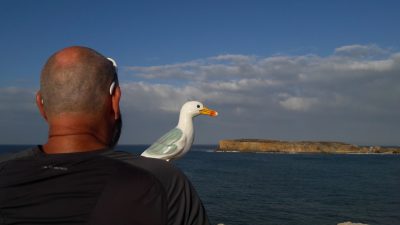 Next stop, Nazaré, and I am delighted to hear that this is where we are staying. Yippee! What a stunning spot, I love it! This picturesque seaside town is unusual in that it extends from the fishing port and wonderful sandy beach to the very top of the steep cliff above. The upper part of town can be reached by a funicular, which of course we had to try. That sure was fun and the views en route are fantastic!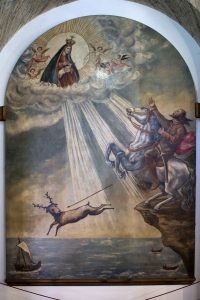 The main landmark in the upper part of town is the Sanctuary of Our Lady of Nazaré. The legend goes that one foggy morning in 1182, a local nobleman was out hunting when he suddenly realised that he had chased his deer to the very edge of the cliff. Just as he was about to fall to his death, he called out to Our Lady of Nazaré who appeared before him and halted his horse. In honour of this miracle, the nobleman ordered a chapel to be built which since became a place of pilgrimage.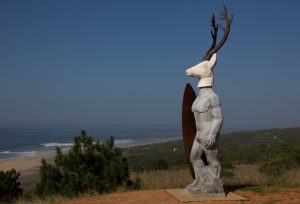 I love this funky modern twist on the legend! And this oversized statue is very much in keeping with the oversized waves of Nazaré. The phenomenon of the 'Big Waves' of the northern beach is explained in great detail in the museum in Nazaré lighthouse, but in a nutshell, a large canyon under the sea off the south beach is responsible for causing the huge swells which can generate waves of up to 30 metres. I defy you to watch the videos without dropping your jaw!
From the lighthouse, the Oldies ventured down to the north beach, and if it weren't for the deafening crashing of the surf, I'd have for once been able to enjoy their stunned silence as they watched jet skiers pulling the most daring surfers out to sea to catch the waves. We all held our breaths when one surfer had a wipe-out and we had to wait for what seemed like an age before seeing him re-emerge from the surf, battered and bewildered. And that was on a totally calm day when the waves were mere wavelets. By Nazaré standards.
Here's our version of the Big Wave: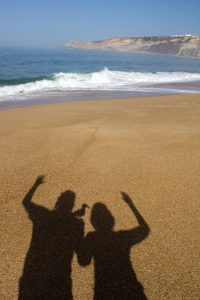 Nazaré is steeped in tradition and we've seen several local women wearing the local costume of large colourful headscarves and embroidered aprons worn over several skirts in different colours. This is my favourite local tradition: air-drying fish. It is tough though, having all that temptation right under my beak!