A Post from the Coast
A Post from the Coast
Pick a beach, any beach… Tulio was right, the beaches here are all fantastic, and there are so many of them! Along the stretch from Carcavelos to Cascais alone, I have counted a baker's dozen. Lucky for some. Certainly lucky for me!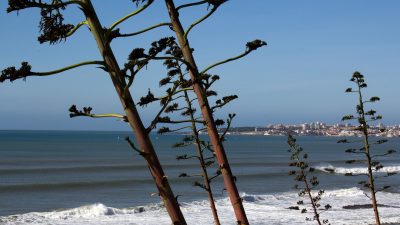 The Oldies and I have been enjoying exploring the coastline, partly on foot, partly taking the Linha de Cascais, the suburban rail line which runs from central Lisbon to … you've guessed it … Cascais.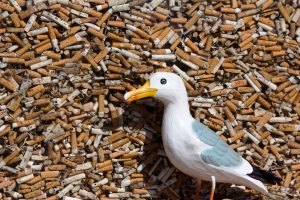 I was impressed with the effort that is put in to keeping the beaches clean and in good order here. Accessible beaches are regularly groomed by heavy machinery and in the summer I've seen teams of cleaners picking up litter. This glass case full of cigarette butts near (but thankfully not too near – the smell is vile) the restaurant at São Pedro beach, however, is a sad reminder of how much yucky litter can still accumulate. This is definitely something to kick up a stink about, no buts about it!
We were all happy to pay a return visit to Estoril which is one of the more upmarket coastal areas. Well, it boasts a motorsport race track and a casino, need I say more? Luckily for me, the Oldies are more interested in the sea than in racing or gambling, and we've spent most of our time on the paredão, the scenic path along the seafront. I dropped plenty of heavy hints back in January about how they should follow the example of the locals who all seem to be either running, cycling or working-out like crazy on the exercise stations (http://www.gullibletravels.net/2017/01/30/keeping-fit-in-estoril/) but the Dynamic Duo are content to just stroll, taking regular breaks in the numerous cafés and bars along the way. They do, however, spend long periods gazing at the surfers being all energetic and skilful. This appears to be an exhausting activity. The gazing, I mean. They're shattered after it, the poor old things.
My owners are always happy to potter around beautiful Cascais and they already have a couple of favourite restaurants and cafés there. I'm astounded at how busy it still is here although we are already well into autumn. It must be thronged in the summer! It's easy to see why it is such a popular spot however. A pretty old town centre with a maze of little streets chock full of quaint shops and eateries, small but lovely beaches, a fishing harbour, a marina, gorgeous villas, museums, the citadel …  it all adds up to a sure hit with the tourists.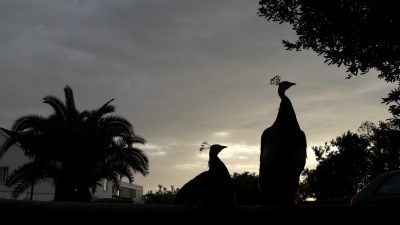 Now this was a surprise. I spotted these feathered friends near the lighthouse just outside Cascais. I don't think I've ever encountered peacocks by the sea before!
On one of their more energetic outings (I think I am finally getting through to them), the Oldies started out from Cascais, walking westward along the coast. The walking and cycling paths certainly make life easier for bipeds who want to explore this part of the coastline which becomes wilder and rockier with each step. Boca do Inferno is a dramatic contrast to the sandy shores further east. It gets its name from the way the waves crash through a system of caves in the cliffs and spew out through a hole at the top. We were there on the calmest of days and it looked hellish enough in there. I wouldn't fancy attempting to dive for my supper in that churning froth!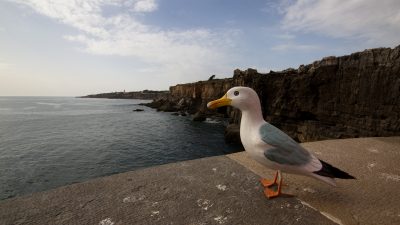 In spite of all their great intentions, the Wingless Wonders only made it as far as lovely Guia after all that particular day. They were practically rooted to the spot there, mesmerised by the expansive views of the ocean. They are not the only ones though, judging by the number of hotels and apartment blocks there, designed to ensure that every balcony captures a piece of the picture. It would unthinkable to live or stay there and not have that view.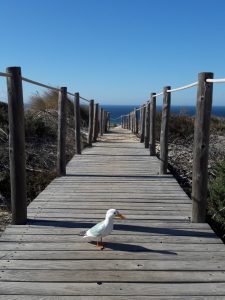 One spot further up the coast, about 10 kilometres from Cascais, has got to rank among my favourites here so far. Guincho beach is just wonderful. Wild and wonderful! I just can't make my mind up what I preferred more. The beach or the dunes. The dunes, Duna da Cresmina to be exact, are above Guincho and, apart from the intrinsic beauty of the dunes themselves, they afford stunning views of the coastline. The boardwalk around the dunes mean that they can be accessed without damage by heavy footed humans. Although I posed no danger to this delicate natural setting, I thoroughly enjoyed the views from my post.
Dune or beach? So hard to choose between them. But either way, I was happy as a sand boy!