Spicy Szeged
Spicy Szeged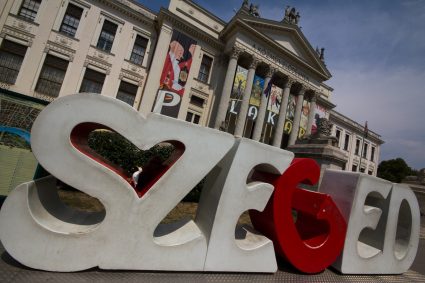 Those Oldies do my head in. Talk about bad planning! They decide to visit Szeged, home of the world-famous Pick Salami factory and Paprika Museum on a Sunday, the one day of the week when the visitors centre is closed! To rub salt into the wound, they pick (ha! Get it?) one of the hottest days so far so there is no chance that His Lordship will even consider ordering a bowl of halászlé, a local speciality which is basically a carp and catfish soup. Her Ladyship wouldn't touch it with a barge pole, but today even Himself, normally the fish fanatic, is only interested in gallons of cold water and ice cream. Not a thought for a poor starving seagull!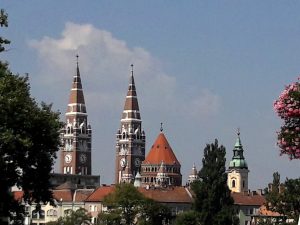 In spite of my rumbling stomach, I must grudgingly admit that I really liked Szeged. On the river Tisza and not far from the Serbian border, it is the third largest city in Hungary and, due to the fact that it was almost entirely destroyed in the flood of 1879, it was completely rebuilt in style by the Emperor Franz Josef, with grand boulevards, beautiful squares and parks and wonderful architecture, much of it in elegant Art Nouveau style.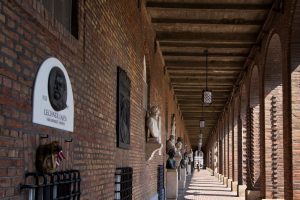 One thing I've noticed throughout Hungary is the incredibly large number of statues, busts and plaques commemorating famous Hungarians and this was very much in evidence in Szeged. In fact, on this hot Sunday afternoon there were practically more statues to be seen than people. There sure are a lot of famous Hungarians. Hungarian men, that is. Where are the statues to famous Hungarian women, I wonder?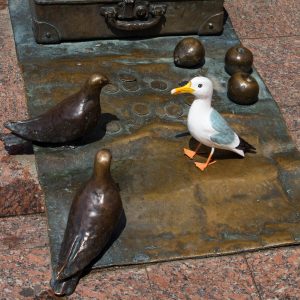 I found a couple of famous pigeons, however…
This statue of Nobel Prize winner, Albert Szent-Györgyi is on the steps of Szeged University where he carried out the research for which he won the 'paprika prize' as the press called it at the time. The story goes that his wife served him a fresh bell pepper one evening which he didn't fancy eating. He took it instead to his laboratory and his experiments led to the isolation of vitamin C. Her Ladyship, of course, was delighted to point out that this proves that it pays to be picky about your food. It's ok for her to talk, but I just wished I had some food to be picky about!
The Wingless Wonders were heading purposefully up one particular street in search of the Water Tower on Szent István Square when an elderly woman called them back and gestured frantically at them to take a different road. She had neither English nor German, but it was clear that she was anxious that Oldies follow her directions. They managed to make out the words fürdö and szuper – well, they were repeated often enough – so the Oldies finally copped on that there must be a 'super spa' around the corner. Sure enough, there was a 'super spa' around the corner, the Anna Thermal Baths to be exact, housed in a magnificent Art Nouveau building.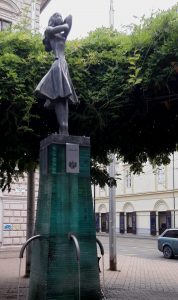 Nearby was the Anna thermal fountain which supposedly has all kinds of wonderful medicinal properties, and there were queues of locals waiting to fill plastic bottles with the hot water. One man, however, was using the fountain to do his washing up! Well, I suppose when there is free hot water for the taking… Thank goodness he didn't appear to have brought any washing-up liquid with him. That would have had the others foaming at the mouth!
As we eventually crossed the bridge back over the Tisza to where we had parked, I got a glimpse of the Aquapolis Spa and yet again I had to curse the Oldies for not thinking of bringing their swimwear and towels. This incredible complex has about an acre of pools and one kilometre of waterslides – a total of 13 covered slides which can be used year-round. What a place, I would have loved it! In fact, between all the lakes, rivers, spas and water parks, a seagull could easily cope with living in land-locked Hungary.
If only his owners were better organised.