Beautiful beeches
Beautiful beeches
The Oldies did manage to drag themselves away from the spring waters and wine cellars of Eger in the end. With the temperatures remaining in the mid to high thirties, His Lordship suggested we head for the hills and go for a drive amongst the vineyards. Great. After Tokaji, we are in the best-known wine growing region of Hungary. But do you think His Lordship managed to find as much as a single grape? No prizes for guessing the answer to that one!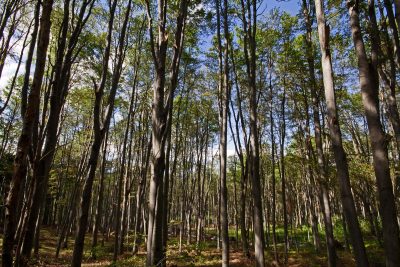 No matter. We ended up in the beautiful beech forests of the Bükki National Park instead, bükk meaning beech. His Lordship who, in spite of spending many years in Finland and of course Austria, said he'd never seen a beech forest before, and he was totally gobsmacked by the vast scale of this forest into the bargain. It just goes on and on, uninterrupted for miles and miles. Like myself, Her Ladyship is more into beaches than beeches, but even she was impressed. Sadly, there has been terrible storm damage. A local we met explained that this storm occurred several years ago. It looks like it will take several more years to clear it all!
After visiting Bël-kö, a 13th century monastery at Belapatfalva and touring along roads which afforded wonderful views of the Slovakian mountains, Her Ladyship's stomach started rumbling. Well, it was at least 10 minutes since breakfast after all, so we bought some nibbles and set about finding a picnic spot. What we thought was just a car park on the edge of the forest, turned out to be the entrance to a wonderful forest park at Szilvásvárad. Here, we were able to take a narrow-gauge railway several kilometres into the depths of the forest, enjoy our picnic in idyllic surroundings, then slowly make our way back alongside a river with waterfalls, lakes, a fish farm – all in the shade of those wonderful trees. No shortage of water around here, even if it is green at times.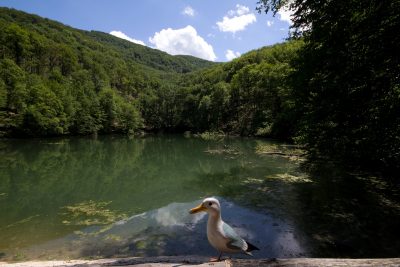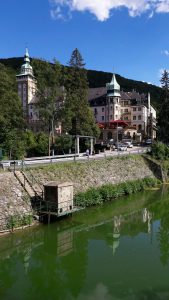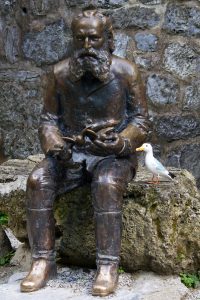 Our circular route onwards took us to the pretty village of Lillafüred, with its green lake (yes, another one!), waterfall, caves and this gorgeous hotel. Now this would be a great spot for a few days of getting away from it all! Here I came across this statue of Ottó Herman (1835-1914), who, among many other achievements, was the founder of the Hungarian Ornithology Centre. I always have time for a bird man!
Speaking of caves, we stumbled across a complex of cave dwellings in the village of Nosvaj only about 10 km outside Eger. The oldest house is 400 years old and, incredibly, these dwellings were inhabited up to the 1970s. They are certainly nice and cool in this summer heat, but I don't think I'd fancy living here in winter, even with this oven in the 'kitchen'.
His Lordship really loves food shopping, especially when abroad. He always manages to find some local specialities even when he has to resort to the well-known international supermarket chains. Shopping in a foreign language does have its pitfalls, however. The other day, when shopping for ingredients for a bean stew, Himself bought what he thought was tomato puree. It actually turned out to be pureed chillies. Pureed hot chillies. Later that evening as the Oldies started digging in, I nearly cracked my beak laughing when they turned bright red and started gasping like a pair of steam engines. I have to agree with His Lordship. Foreign food shopping is fun!
Here's another local item I spotted in one of those international supermarket chains. I am pretty sure that this would never find its way onto the shelves of a TESCO in Ireland…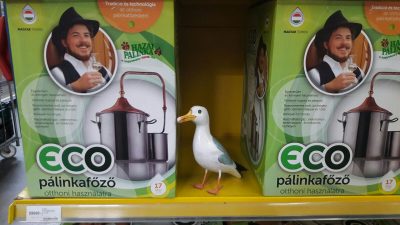 …still and all.